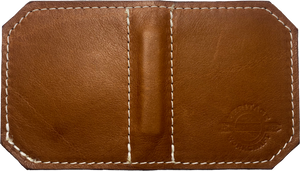 These soft barrel protectors are designed to cradle your barrel for protection against the rough conditions that some club gun racks can bring.
They are made from a high quality leather and contain a center magnet that will attach to the rib of your barrel. When you place your gun in the gun rack, it will conform to the gun and rack.
VERY SOFT. EXCELLENT QUALITY. VERY REASONABLE PRICES. OUTSTANDING CUSTOMER SERVICE.
Money well spent
I just got a couple of these for my wife & I- They're great! Light enough to fit in a pocket and pliable enough to easily fit any rack opening and envelope your barrel(s) in a smooth, soft cocoon of leather. Well made, quality leather & stitching…looks like they should last a long time. Highly recommended!
Good quality.
Ships fast.
Just as ordered.
Best Investment!
This is my 3rd one purchased and absolutely love all 3!! If you want your shotgun protected, this is the item to get.